Exciting AR Activated Games
The Coop Squad App is an exciting collection of games, activated by COOP Squad collectable character cards earned as rewards through participation in a Great American or QSP Canada fundraising program. The different Coop Squad Character Cards allow the users to activate and play fun games and share a "Pay It Forward" act of kindness. The creators of COOP Squad had a dynamic cast of characters they wanted to bring together in a fun and engaging mobile game.
Using each character as a unique key, the creators' design called for users to be able to collect and trade physical character cards that could then be used to play each character's game within the app. With elements of both traditional game design as well as, mixed-reality technology, our team was the perfect fit to design and develop the app for the client.
With any media-rich project, like a game, it's crucial that our team focus on creating high-quality art assets. In COOP Squad's case, this meant working closely with the client to concept and design each of the Squad's characters. Because the game would also rely on physical media in the form of cards and figures, our artists had a lot of material to work on in order to create an aesthetically consistent look for the game.
Finally, our technical team made it possible to use cards to activate the various games within the app with augmented reality libraries. The AR aspect of scanning cards and toys to unlock the mini-games required the ARKit and ARCore SDKs from the native platform libraries. These SDKs allow the device's camera to recognize the unique marker being registered by the camera and convert that information into specific in-game content. The in-game content was done through the Unity engine, allowing for crisp 2D animations and a responsive feel.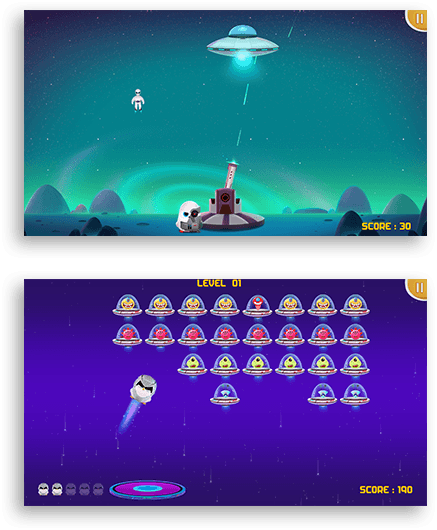 When development and quality assurance on COOP Squad ended, our client had a mobile game that not only entertained its users, but also raised money and awareness for important causes. Along with its array of unique games for each character, its augmented reality features offer a strong collect'em all approach, increasing its replayability and longevity. COOP Squad represents what can happen when a client comes to us with a strong vision and we marry it to robust technology.