What are the Benefits of Mobile Apps in the Hospitality Industry?
2020 has been one heck of a year.
People all over the globe are being struck with hardships and challenges. The ones suffering the most from this pandemic in regards to timing and the amount of lost business are the companies in the hospitality industry. The pandemic has halted all travel and made vacationing almost impossible for the average consumer.

Think about the number of hotel rooms and small businesses that expected the spring and summer of 2020 to go much smoother than it has thus far. Rooms remain empty, and bars and restaurants must make special accommodations to maintain an even flow of customers. This has led to innovations and creative workarounds that have changed the industry overall.

Let's keep the conversation light and talk about how hospitality companies can benefit from integrating new technologies not only in the current market but to set themselves up with an advantage in the future as well.
How can hospitality companies benefit from mobile apps?
Mobile apps can be used in many ways by consumers: for entertainment, planning, e-commerce, communication, media and news stories, etc. The list of categories and genres is almost endless when you look at the app store. So how does this relate to hospitality?   
For hospitality app development, we are primarily focusing on hotels, restaurants, bars, theme parks, and other event-based gatherings like music festivals or trade-shows. The distinction is that anything centered around one group of people making unique plans and accommodations to host or provide service for another group of people in simple terms. Let's take a look at some possible uses for mobile technology in the hospitality Industry.

Great companies are built by people who never stop thinking about ways to improve the business.
J. Willard "Bill" Marriott

Hotels, Motels and Holidays Inside
Hotels have a unique business model as it is asset forward and relies on generating a designated number of guests to balance the cost of the facility and labor of its work force. As generally, they would prefer to know how many bookings they will have in any given quarter. That can be the place we aim to improve through mobile app technologies.   
One of the benefits of mobile apps for hotels is by improving the booking process and creating more exposure about deals and what your hotel has to offer. This lets you can generate more bookings through your system, rather than relying upon booking sites that take a cut of your potential profits. A mobile app could be used to offer specific deals only available to users of the app. Users could be provided booking information automatically as well as have payment settled beforehand. In this case, you can use elements from other technologies like blockchain to have a more secure payment process. With blockchain, there is a secure transmission of funds via an anonymous chain of transactions. Each transaction is added to the chain and is transmitted with no ability to be traced back to a source. It sounds like something in a spy movie. The efficacy of this is used by enterprise-level companies down to startups who choose to build the payment process foundation on a new, tested, and respected technology.   
To stand out in the hotel industry, you need to have more than a beautiful room, free breakfast, and great reviews. To set a business apart, the entire process from check in to checkout should be pleasant. You don't need any gimmicks like live music or a churro stand. A reasonably priced stay in a lovely room with a seamless business process can make all the difference.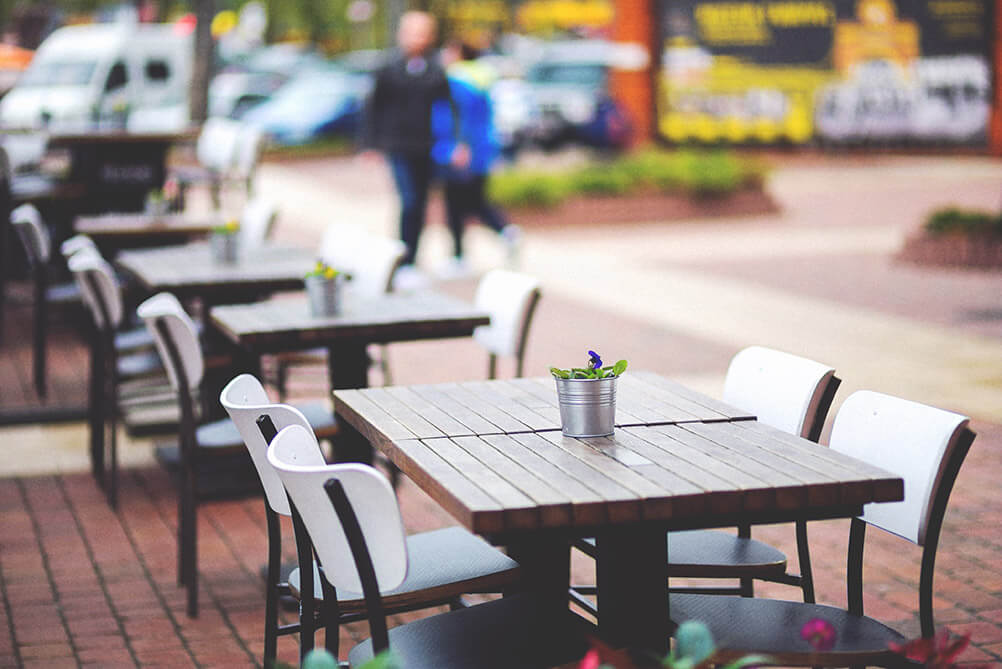 We all know a few local spots that most people in the area enjoy going to for a night out. These places now have to comply with more rigid health standards and just let people come into the building. We have seen some chains like iHop offer only outdoor seating underneath canopy tents to allow proper distancing and open air. What can a restaurant do to be socially distant, but still accommodate its customers? Build a mobile app. With an app, a restaurant can let customers see their menu, make a reservation, or be notified when their wait is over. In that app, they could also offer a game as a service solution to let kids play on their parents' phones while they wait or still get the classic restaurant coloring book experience that we all know and love.   
With bars and pubs, it becomes a little tricky. As people gather into a small bar and grab a few drinks, they tend to relax a bit more, resulting in people getting too close or disregarding health and safety guidelines. What if there was a way to stay at your table or seating area and still be served efficiently, without having to walk over to the bartender and trying to get their attention. The answer is mobile app technology. Each person in the bar can download an app with a unique user ID. From this app, the user could order a drink, food, or leave a tip all from the comfort of their seat. When the customer's drink or food is ready, the bartender or server can know whose order it is by finding an associated table number or by sending an alert to the user. With that information, the user can stay seated knowing their order is on the way, or they can get up to grab their order at the bar area.    
This streamlining of a common situation is being done by bars with the resources to achieve it. That does not mean that you need to have a large bankroll to do something of this nature, though. By keeping the application lean, you can get the main features you are looking for and build upon the code at a later point once the user base grows.
One area we are all missing is indoor and outdoor events as well as music venues. Whether it is a craft beer festival at the Boston seaport or a folk festival in western Massachusetts, they have all been delayed, canceled, or had to reduce the capacity. In public venues that host and employ potentially upwards of hundreds to thousands of people, they have a lot of moving parts when it comes to running their business correctly.
At the moment, these venues are grasping at straws trying to reopen for business, ensuring they fulfill help guidelines set by the state or municipality level. Venues are also trying to secure funds to keep the lights on. This could be scheduling more events in the future and selling tickets in advance or hosting more outdoor settings and utilizing their skillset and workforce for other tasks and business opportunities.   
A mobile app can be implemented in several ways, but automation is primarily seen as the best fit for these companies. Any situation where a line or queue of some sort would be waiting to get admittance or to order meals can be improved. This can be done by distancing the user and using notifications to supplement the process.
Theme Parks and Family-Friendly Destinations
One thing most kids and adults have experienced is a great weekend or trip to a big fantastical theme park. Whether that is Disneyworld, Six Flags, Local parks, or seasonally dependent trips like water parks or skiing, the process tends to be very similar. Visitors drive or fly to the park's destination and have either a check-in process to their hotel or the park's accommodations. They get to the park and purchase a ticket or show their ticket to the gate attendants and walk in through the main entrance. From the main entrance, the visitor will look at a free map or an information kiosk to see the main attractions and food vendors. After they get situated and have something to eat or have looked through shops, they will begin venturing further into the park to go on rides, play games, and have a great time.   
How can we make this process outlined above even simpler and more in line with social distancing and contactless service? A mobile application. By either pushing updates to an existing app or developing one from scratch, a big park can allow customers to scan their way into the park with a subway-style entrance, and in the same app, they can also provide information about where things are located, prices on food and gifts as well as a method to allow customers to purchase goods without having to spend too much time inside of a facility. Take this example of a mother and daughter going to Disneyworld. They walk into the park and see a food stand, order a snack, and then get notified through the app when their snack is ready. They grab it off of a tray near the window and move onto a ride. If the app also contained a waiting line system like in airport terminals, we could reduce the time that people must wait in line and could sort them by their purchasing level or some other factor.
The above-mentioned ideas and application use cases are provided to give you an idea of what's possible through mobile app technology from the standpoint of a hospitality app development company. If you are a business owner in the hospitality space, you now have a few ideas of what you could do to improve operations or to get a better relationship with your customers. As times are tough, I can understand wanting to hold off on new business ventures, but it has never become more important to innovate in order to keep up with the competition.   
If you think you are ready to either develop a mobile app for your business or make improvements to an existing application, I encourage you to reach out to our team here at Zco Corporation for any and all help in regard to software development. At Zco, we are experts in mobile app development and augmented and virtual reality applications. We will be able to help you bring an idea to life, so contact us to create your hospitality mobile app today!
Have any questions? Get in touch!